Please congratulate our wrestlers!
Vikings Advance to Regionals
Please congratulate the Wrestling team as the Lady Vikings earned 2nd place as a team in the district tournament yesterday! 6 girls competed in the Varsity tournament, and all 6 will be advancing to the regional tournament. Chris Solorzano will also be advancing to Regionals next week in only his first year of wrestling. Also, please recognize 2 of our lady vikings as they are ranked top 20 in the state of Texas. Quick summary of our Viking Wrestlers:
Roderick Ellison (Did not finish due to injury)
Chris Solorzano - 3rd Place
Isabella Llamas - 1st Place (Ranked 10th in the State)
Leilah Jimenez - 4th Place
Jamaria Washington - 2nd Place (Ranked 19th in the State)
Angie Miranda - 1st Place
Eboni Washington - 1st Place
Koda Camarena - 2nd Place
JV
Sabrina Govea - 1st Place
Obed Vargas - 2nd Place
Congratulate Our Lady Viking Wrestlers
Please congratulate any of our Lady Viking Wrestlers when you see them today. This past weekend these ladies took 3rd place as a team in the tournament. We only had 4 out of 10 weight classes, but the 4 Varsity spots all took home medals to help the team points beat out 18 other teams.
Isabella LLamas - 3rd
Leilah Jimenez - 3rd
Jamaria Washington - 2nd
Angie Miranda - 1st Place
Eboni Washington - 2nd
These ladies are set to repeat for a district title.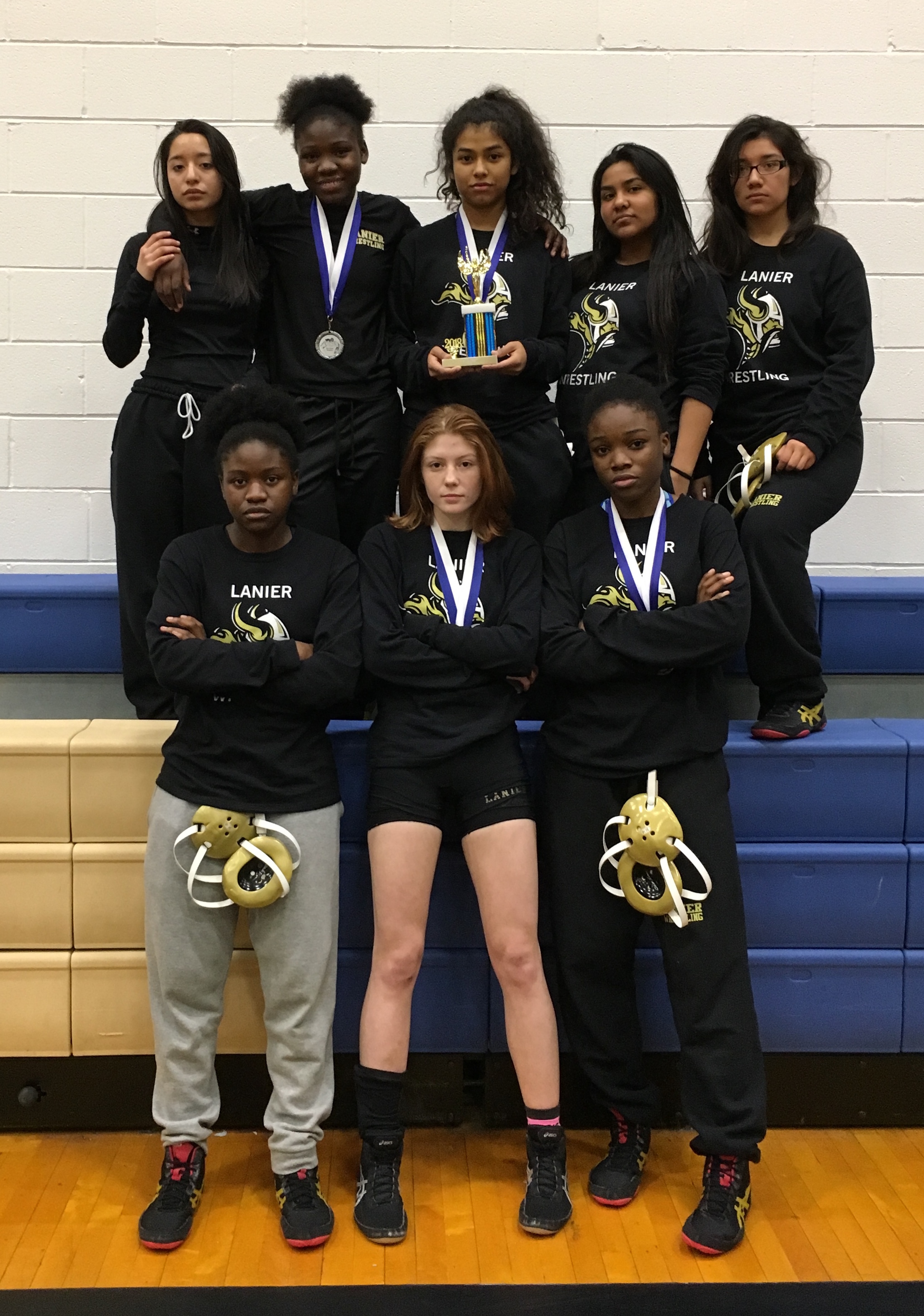 Leander Glenn Grizzlies
Last night the Lanier Viking Wrestling team hosted the Leander Glenn Grizzlies for our final home dual of the season. The boys faced tough wrestlers, Chris Solorzano, Obed Vargas, Jesus Sierra and Kelvin Medina all wrestled tough matches. Roderick Ellison pinned his opponent in the second round to add another win to his stout record this season.
The Lady Vikings came out and won their dual as a team, Leilah Jimenez, Krista Hollins, Jamaria Washington, Katherine Aguilar, Koda Camarena all wrestled tough to pick up wins. Angie Miranda continued her dominant season and pinned her opponent. Senior Isabella Llamas came out to prove why she is ranked top 10 in the state. She went up a weight class to take on an opponent 15 lbs heavier. That did not matter as Bella picked up a dominating victory by shutting out her opponent to pick up a technical fall 16-0.
Craig T Grace Centex Tournament
This past weekend the Lanier Viking Wrestling team went to battle at the Craig T Grace Centex Tournament which included 53 of the best 5A and 6A teams across the state.
Three boys entered the tournament, Jesus Sierra and Chris Solorzano got some much needed mat experience and wrestled good matches. Captain Roderick Ellison battled through a leg injury to make it into the semi finals and finished a 4-2 record on the weekend.
Four girls wrestled, Kyara Zacarias and Captain Leilah Jimenez wrestled tough competition and picked up a pair of wins. Captain Angie Miranda showed grit to come from behind a couple times to finish in 4th place out of 32 in her weight class. Isabella Llamas proved why she is a state qualifier and pinned all of her opponents to make it into the championship match. She took a tough loss against another returning state qualifier to finish 2nd in the tournament.
Please come out and join us for our Senior night this Wednesday at 6:30pm as we take on Leander Glenn.