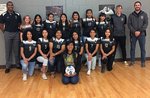 Lady Viks Soccer 2017-18
JV Girls Soccer upset McCallum, tie Reagan
After struggling to find a goal and a win in our first 2 games of the JV soccer tournament, our girls kept fighting and improving. Their tenacity culminated in a 3-1 upset over McCallum thanks to a hat-trick (3 goals) by America Reyes and a gritty team performance-- every girl played quality minutes to out-hustle and outplay the tournament hosts. It was the perfect end to our tournament.
Our early morning game ended 1-1 versus Reagan; Samandra Hernandez gave us an early lead but Reagan managed to level in the second half. Andrea Zavaleta appeared to score a possible game-winner, but the ref disallowed the goal due to a dubious offside call. HUGE thank you to Ms. Aguilera for braving the cold and cheering us on!
Our girls put in an amazing effort and have improved dramatically in a short span. Please congratulate them all in a job well done and come lend us your support at our next game!